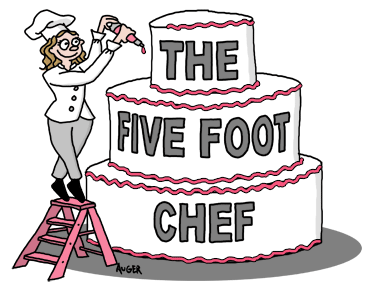 The Five Foot Chef
1 (646) 302- 3465
Brooklyn, NY, 11228
Sweet Treats
All our sweet treats are freshly made to order. We have a wide variety of items and flavors that would fit on any great venetian table. If there is something you care for that is not listed, we can accomodate your request, all you have to do is ask. Call us anytime to place your order. Some of our items listed can also be turned into favors, center pieces or packaged gifts.

Cake Pops
Cake pops can me made with any cake flavor, and coated in choc . They can placed on a lollipop stick or can be enjoyed as a bon bon. These delicious treats can be decorated in a wide variety of ways. These are sold by the piece and are traditionally displayed upright with some sort of base to hold them secure.
Fruit/ Nut Pies
We have a wide variety of pies including, Pecan, Choc Pecan, Pumpkin, Coconut Custard, Apple, Cherry, Blueberry, Mixed Berry, Lemon Meringue( Crumb Topping can be added to most fruit pies)
Venetian/Candy tables
Wide variety of items, to fit all occasions. From fun whimsical kids friendly items to sassy chic gourmet items. Customized to fit your partying needs! Candies, Confections, Petite Fours, Mini Pastries etc. Call for more info.
Decorative Sugar Cookies
We custom make any design concept for these types of sugar cookies, for every occasions. These make a great favor/place setting , can also be baked on a stick and placed in a center base used for center pieces. Cookies are wrapped in clear baggies, with colored ribbon of your choice. ( printed ribbon available)
Cup Cake Tower
Towers are available for all occasions. Unlimited choice of flavors. All Towers can be topped with a 6 inch decorated cake of your choice. All cupcakes custom decorated as you desire.
Choc.Lollipops/ Favors/Place Setting
Custom made Choc. favors/lollipops/place setting - Wide variety of shapes, characters or custom designs. All favors are packaged in clear wrapping with colored ribbon or chosen box ( printed ribbon available). Call for more info.
Fancy Cookie Mix
Wide variety of cookies including: puff cookies, sugar cookies, jelly cookies, 7 layer, pignolis, almond cookies, cinnamon twist, american cookies,biscotti etc. These are sold by the pound, and make great cookie trays.
American Traditional Cookies
All Traditional Cookies can be made in x-large individual size (priced by the piece) or normal size( sold by the pound). Some flavors include: Classic Choc. Chip, Oatmeal Cranberry, Choc. Peanut Butter, Choc. White Chip, Sunflower Seed, Crazy Oatmeal, Choc. Choc Chip, Walnut Delight,Soft Baked GingerBread etc.
Cheese Cakes
We have a wide variety of Cheesecake. All Cheesecakes available in 9 inch - (some available in mini). Flavors include: Oreo, Snickers, Classic Cream Cheese, NY Cheesecake, Rigotta ( italian) , Marble, Strawberry Covered, etc.
Brownies /Bars
We have a wide variety of brownie and bars that are cut into a 4 inch squares. Some flavor include: Double Choc Brownie, Brookie(1/2 choc chip 1/2 brownie), Nutty Blondie, Choc Peanut Butter Brownie, Bacon Brownie, Pecan Square, Coconut Caramel Bar, etc. These are individually priced.
Mini Pastry/ Petite Fours
We have a wide variety of flavors that would fit any venetian table. Some flavors include: mini cannoli, cream puffs, fruit tart, pecan squares, lemon meringue tart, coconut caramel squares, triple choc brownie triangle, tiramisu cups, choc. dipped strawberry, macaroons, red velvet cake, pumpkin cake, banana crumb, peanut butter choc tart, mini cheesecakes,choc mousse cups, cappuccino cake, hazelnut cake, seven layer wedge, etc.(sold by the dozen)
Bread Pudding
We have a wide variety of bread puddings! Combinations of breads and flavored custards or additions can make a different variety to fit anyones palate. Some breads used are : croissant, sour dough, brioche, challah etc. Some flavor custards include: vanilla bean, Choc, pumpkin, apple spice, maple pecan, Rum Raisin, etc.
Pignoli Cookies
These are a traditional Italian cookie, slowly baked with Almond paste and topped with Pignoli Nuts. These are sold by the pound, and make a great touch to any cookie tray or venetian table.
Puff Cookies
Wide variety of cookies inclucing: Rasp. Coconut Almond, Choc Pistachio, Cinnamon twist, Rugelach, etc. (Sold by the pound.)
Choc Dipped Fruit
Seasonal Fruit Dipped in Choc of your choice. Makes a great touch to any event! Available on skewers for center pieces. (sold by the dozen)
Cream Pies
We have a wide variety of cream pies including: Banana Cream, Choc. Pudding, Peanut Butter Cream,Cheese Cake Pies. etc.
Please "like" us on facebook, so we can update you on news, photos, promotional specials and much much more!