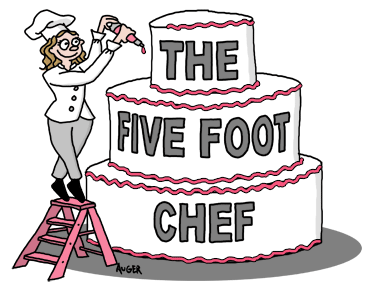 The Five Foot Chef
1 (646) 302- 3465
Brooklyn, NY, 11228
If you're interested in placing an order or have any questions about our products, please contact us and we will be glad to help you!
Leave a message if there is no answer, we maybe with another client or busy in the kitchen!
We will get back to you as soon as possible!
The Five Foot Chef
Offices
brooklyn, ny, 11228
( by appointment only)

tel: 1(646) 302-3465
email:thefivefootchef@aol.com
Q&A​:
________________



What type of cake flavors do you have?

We have a wide variety of flavors for both the Cake and the Filling/Icing including:​
​
Cake:​
Chocolate,Vanilla,Lemon,Almond,Red Velvet,Pink Velvet, Blue Velvet,Carrot

Fillings/Icings:

BUTTERCREAMS (Vanilla,Chocolate,Coconut,Mocha,Hazelnut,Lemon,Amaretto, Bailey's Irish Cream,Mint,Peanut Butter,Dulce De Leche,Cinnamon),
CHOCOLATE GANACHE, ,​
Cannoli Cream (van/choc)​​
Van/ Choc. Custard,​
French Cream(Creme Legere),​
Lemon/ Lime Curd,
FRUIT PRESERVES/COMPOTE (Raspberry,Apricot,Orange,Strawberry,Cherry,​
Apple,Pineapple)
CREAM CHEESE FROSTING(Vanilla,Almond,Chocolate)
​
​ADDITIONS:
Oreos,Snickers Bits,Choc. Chips,Butterfingers Bits,Peanuts,Fresh Apple Compote,Fresh Berries (Seasonal),Bananas,Cookie Dough Bits,All types of nuts
​
​​
Coverings:​
ROLLED FONDANT:(vanilla,chocolate)​
or
Any flavor butter cream

(* Don't see a filling you like?
Ask , and we will do our best to accommodate your desires.)

What are your prices like?

Depends what your ordering- We encourage for you to contact us with details of what your looking to order, and we will be happy to give you a price estimate over the phone or via email.

How do I order something/How much time do I need?

Simple, call us or email us . We will be happy to give you as much info as we can, and even schedule a consultation so we can show you sketches, pictures and book your order. We suggest you call asap for all orders so we can check availability for you. A little advance notice is usually required, after all we make everything FRESH to order!

Do you do tastings?

We accomodate tastings for large cake orders only, that feed 75 + people or that exceeds $300.00 value. All cake tastings are charged at $25.00 for three combo. 2 week notice is required, and once picked up and paid for , you can apply that reciept to your order once booked with in 30 days , if appilicable. Call for any questions.

Do you do any cake/cookie decorating classes?

YES! we do both adult and children classes. We can also arrange childrens or adult private parties. Call for more info on scheduling private and public classes.

Do you have any discounts or sales for your items?

Yes we have seasonal discounts, random bonus coupons (in house only) and special discounted items at events we attend. Please "like" our Facebook page to be informed of all the update information.

Please "like" our facebook page ,so we can keep you updated on news, coupons, events and much much more!