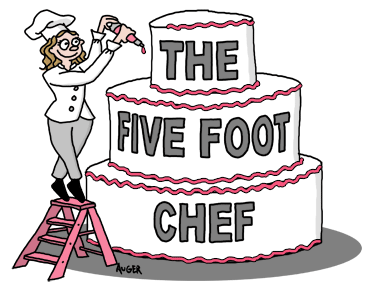 The Five Foot Chef
1 (646) 302- 3465
Brooklyn, NY, 11228
Chef Agatha Vassallo (The Five Foot Chef)
A "Jane-of-all-trades" pâtissière, Chef Vassallo, has an intrinsic ability to turn clients vision into edible masterpieces.
Her natural abilities coupled with a pastry arts degree from the French Culinary Institute, and a Bachelor's degree in Fine Arts, allows her to take on many roles in the world of culinary arts, such as: Pastry Chef, Cake Designer, Culinary Artist, Professional Cake Decorator, Sugar Artist, and Professional Chocolatier.

Chef Vassallo has been an apprentice to many great chefs in New York City, including Elissa Strauss (Confetti Cakes) and Ron Ben Israel (Ron Ben Israel Cakes), to name a few.
From the Chef:

Greetings,
​
I would love to help you make your special occasion extraordinary! I can make an edible masterpiece that will be customized to reflect your visions and dreams. My passion, creativity, and artistic talents always come through in my work. My personal goal is to meet and exceed customer's expectations, so I tend to out-do myself with every customized order. Contact me with any questions, concerns, visions, or dreams you may have. I am looking forward to hearing from you soon!

Sincerely,

Chef Agatha Vassallo
"Let them eat cake"​
​ - Marie Antoinette
Be sure to "like" us on facebook, so we can keep you updated on news, event, and seasonal promotions!